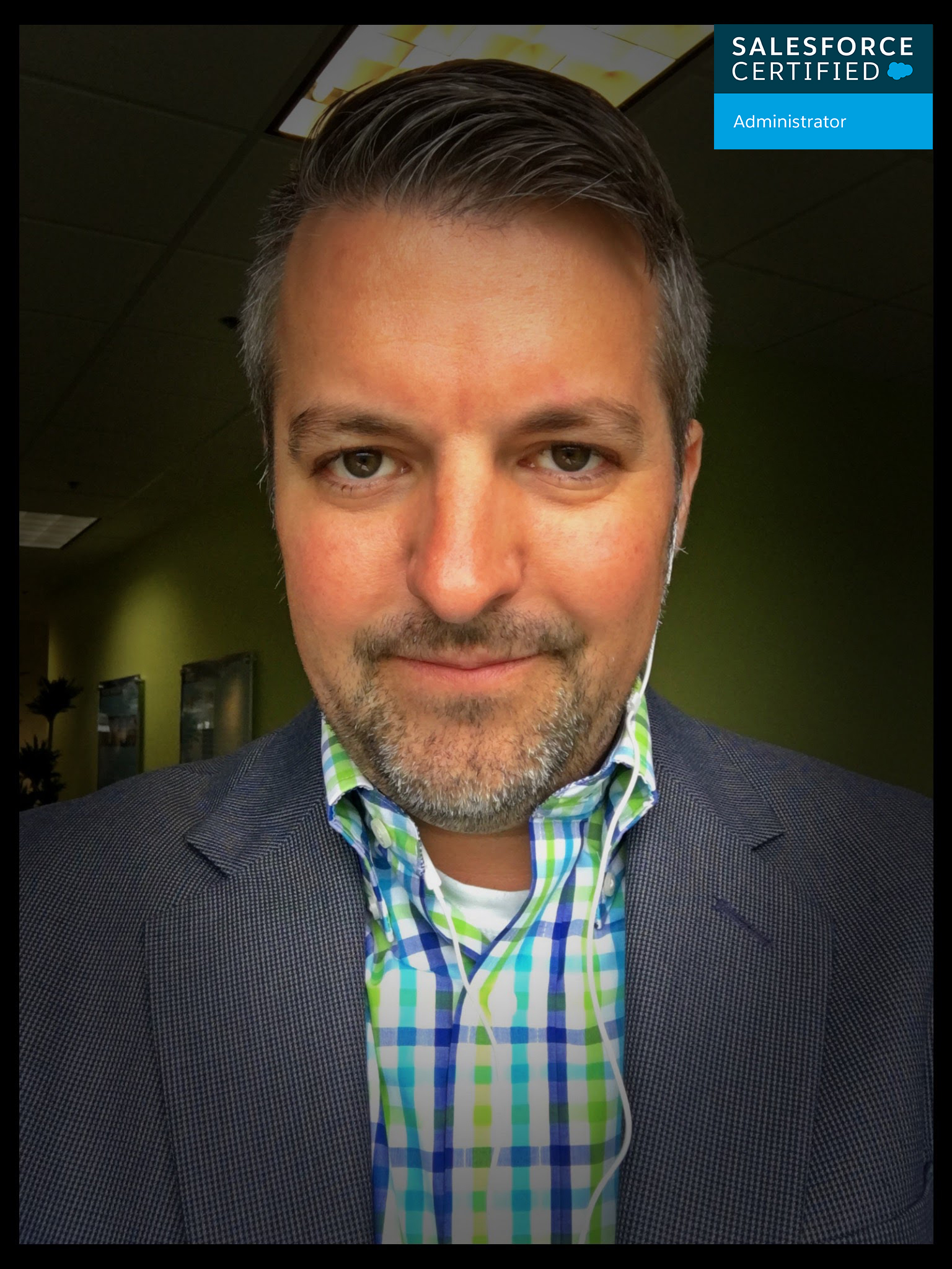 About Me
I'm an experienced, high energy, and results driven IT professional with a proven track record of successfully delivering enterprise-wide technology projects on time, within scope, and budget. I thoroughly enjoy working closely with business partners, strategic leaders, and technology staff to accurately define requirements and deliver best-in-class IT solutions; all while having fun.

Enterprise Social Networks
Mobility, MDM, M2M, & IoT
Manager, Principle Project - Salesforce
2016 - NOW
• Responsible for delivering commercial innovation to achieve our core strategic objectives, obtain productivity increases, and reduce SG&A expenses across multiple divisions through the effective use of our global Salesforce platform.
• Business liaison and PMO responsibility for several Salesforce program objectives including platform standardization (Blueprint), establishing best practices, creating and promoting communities of practice, intake review, agile capacity planning, user story grooming, and backlog management.
• Dedicated PMO liaison for several global sites that are onboarding into our Salesforce program. Responsible for business representation of several Salesforce objects including Accounts, Chatter, Products, Pricing, and Contracts.
• Workstream lead for several concurrent Salesforce optimization projects within global program.
SR IT PROJECT MANAGER | SR TECH LEAD
2013 - 2016
• Actively working with IT leadership and business partners to develop and drive an IoT and device connectivity strategy.
• Working experience with Axeda Machine Cloud for device connectivity, management, data acquisition, and upgrades.
• Facilitate technology evaluations and proof-of-concepts.
• Work with senior leadership teams to assess IT services and technologies to enable them to make strategic decisions.
• Research and recommend new technology products and services.
• Member of a global IT project review board to evaluate new applications, systems, or technologies coming into Boston Scientific.
• Manage multiple vendor relationships to define, develop, and execute joint product development roadmap.
• Effective in influencing software partners to invest in strategic platform integrations that directly benefit Boston Scientific (SAP Jam + Box).
• Active member of several internal cross-functional platform governance boards.
• Conducted an extensive market analysis on social business platforms based on approved requirements. Presented a platform recommendation to our CIO.
• Managed a nine month cross-functional project that culminated in the successful deployment of SAP Jam (social business platform) to 29,000+ Boston Scientific employees and contractors.
• Designed, constructed, and deployed an enterprise-wide integrated social gamification program with Bunchball. Our gamification program delivers missions, badges (achievements), points, and leaderboard functionality directly within our social business platform.
• Worked with legal, compliance, and privacy experts within Boston Scientific to establish internal and external terms of use policies.
• Responsible for creating a variety of documentation including end-user, help desk, system architecture, and formal project artifacts.
• Lead a process and a virtual team that delivered a global SharePoint governance policy.
TECHNOLOGY PROJECT MANAGER
2010 - 2013
• Global deployment of several technology projects including an enterprise-wide Mobile Device Management platform to support BYOD and a global deployment of a video on-demand platform for corporate video ingestion, streaming, and distribution (corporate YouTube).
• Successfully lead several high visibility production deployments of Avaya communications platforms including Avaya Systems Manager, Avaya Presence Services, Avaya AES, Avaya CES, Avaya Aura Conferencing 7.0, and Avaya Flare Experience.
• Lead several technical RFI & RFP processes for project implementations on behalf of the business.
• Actively managed concurrent capital project budgets in excess of $500K.
• Department intern mentor and coach.
SR TECHNICAL SPECIALIST
2008 - 2010
• Successfully lead project teams through several medium scale campus switch upgrade projects using the PMI framework.
• Drove department standardization through the effective use of CI processes, templates, common infrastructure, software, and configuration.
• Worked closely with customers to troubleshoot and resolve multi-vendor infrastructure issues throughout our global network of locations.
• Saved the company over $200K for new projects with the definition and effective use of a partner hardware resale process.
SR NETWORK ENGINEER
2004-2008
• Managed, designed, and deployed a new campus data center distributed analysis network module for network based forensic analysis and data capture. This solution allowed real-time packet capture for our customers at any data port in our data centers.
• Lead a large upgrade project for the corporate Network Applications module. The deliverables for this project included providing leading edge network equipment and connectivity for our production load balancing, firewall, and network appliances for increased performance and revenue.
• Successfully managed a large scale, multi-million dollar Cisco line card upgrade project. This project involved upgrading 150 legacy 48 port copper network line cards in our data centers for standardization, an increase in performance, stability, and ease of management.
• Independently managed over $2M in team capital expenditures and assets for campus LAN team projects over two years. This also included a streamlined Cisco trade-in process that had saved Thomson over a $1M since designing and deploying the process in our organization.
• Directly assisted in a full campus wireless deployment, which included controller configuration and upgrades, router configuration, access point deployment, wireless survey, and a wireless security & rogue detection system.
• Wide variety of responsibilities. Positions included IT consultant, IT trainer, Technical Support Analyst, and Technology Sales Associate.
• Companies included Thomson Reuters, Orbit Systems, North Dakota State University, 3M, and Best Buy.
Education & Certifications
Salesforce Certified Administrator
Salesforce Certified Administrator since January 2017.
Certified ScrumMaster with the Scrum Alliance since November of 2016.
PMI - Project Management Professional
PMI certified Project Management Professional since June 2009.
NDSU | Bachelor of Science - MIS
Bachelor of Science in Management Information Systems and a minor in Computer Science from North Dakota State University.
Woodbury High School - Diploma
High School diploma from Woodbury High School in Minnesota.
Contact Me
Address: Charlotte, NC
Phone: (704) 728-0164
Email: mike@mikebaloga.com